Historic Win for Hemp!
SAFE Banking Act passes in the House
Business loans and payments services such as credit card machines have been difficult to access in the hemp industry. Even though Congress granted full legalization for industrial hemp and non-psychotropic cannabidiol (CBD) products through the 2018 Farm Bill, banks have been hesitant to get on board.
"The average ordinary banker might not know the difference between hemp and marijuana," explained Jonathan Miller, general counsel to the U.S. Hemp Roundtable, a non-profit coalition of hemp companies and national grassroots organizations. "They know they are under intense scrutiny because of marijuana, and think the same scrutiny applies or aren't aware that hemp has been legalized on the federal level."
In July, the American Bankers Association (ABA) gave a statement to the Senate's Agriculture, Nutrition and Forestry Committee outlining these concerns:
The Agricultural Improvement Act of 2018, also known as the 2018 Farm Bill, removed hemp from the Controlled Substances Act (CSA) and classified hemp as a legal agricultural commodity. Despite this, banks remain uncertain about the degree to which they can serve hemp-related businesses, and the compliance and reporting requirements that such relationships require…

For banks, it is critical that legal hemp can be reliably differentiated from federally illegal marijuana, testing procedures for crops and retail products are clear, consistent and transparent, and that procedures are in place to prevent farmers and businesses from inadvertently triggering CSA liability. Banks must also be able to rely on a license issued by a state department of agriculture or the U.S. Department of Agriculture to confirm that a hemp producer is operating in compliance with state and federal law, and that their product qualifies as "hemp" as defined in the 2018 Farm Bill.

Finally, it should be noted that ABA supports the creation of a crop insurance program for hemp production. Crop insurance is a risk management tool for banks and allows an institution to provide financing at a lower cost. Due to the nature of hemp with a THC level above 0.3 percent, there needs to be serious consideration for having a crop insurance product that not only provides protections for yield loss, but also provides protections for hemp that may exceed legal THC limits through no fault of the producer. This two-fold approach would provide the adequate amount of risk protection that is needed for lenders to finance hemp production.

In conclusion, banks are willing to provide financing to hemp-related businesses, but challenges still exist. Banks need federal agencies to issue guidelines in a timely manner that are clear, consistent and create a predictable legal standard that is easy for banks to confirm and their customers to adhere to. With these guidelines in place, it will increase the availability of credit to hemp-related businesses and producers.
SAFE Banking Act passes in the House of Representatives - good news for hemp and the American Bankers Association!
As of yesterday, House lawmakers passed the bipartisan SAFE Banking Act (H.R. 1595) and it's on the way to the Senate. This is one of the bills that's been pending for the hemp industry for quite some time, and I mentioned it in my book American Hemp.
The bill essentially addresses the ABA's concerns and reiterates that financial services companies can lawfully work with the hemp industry without fear of heightened regulatory scrutiny from the federal government.
Judging by the stock market, investors in the marijuana industry also saw the bill as a huge step forward.
Marketwatch.com reported yesterday that pot stocks went up after the House of Representatives passed the SAFE Banking Act. This is because the bill creates "protections for depository institutions that provide financial services to cannabis-related legitimate businesses." And since cannabis refers to both hemp and marijuana, this could be huge for marijuana businesses in states that have legalized medical and/or recreational weed.
Since marijuana businesses do not have access to banking services, they can only use cash for currency, which brings up the other main purpose of the SAFE Banking Act: by allowing these businesses to use banks, the businesses can decrease the amount of cash they have on hand, thus the bill provides public safety for the employer, employees, and local community.
Sections 11-12 of the SAFE Banking Act specifically refer to hemp and the hemp-derived CBD industry.
These sections instruct Federal Banking Regulators (FDIC, Federal Reserve, etc.) to issue clear, formal guidance to banks, credit card companies and other financial institutions about the legality of hemp and CBD commerce within 90 days of the bill's passage. Specifically, the guidelines must include 2 things:
Federal Banking Regulators must openly admit that hemp is legal now. (Which they were supposed to do previously under the 2018 Farm Bill but haven't.) Yes, even hemp-derived CBD products are legal, and yes it is legal (and has been legal since the 2018 Farm Bill) to provide financial services to these businesses.


Regulators must also recommend best practices that address the ABA's concerns about providing financial services and merchant processing services to businesses involved in the sale of hemp, hemp-derived CBD products, and other hemp-derived cannabinoid products.
But will the Senate pass the SAFE Banking Act?
It's now up to the Senate to push this legislation through, and signs point to YES.
In April, Senator Ron Wyden, D-Ore., and Senate Majority Leader Mitch McConnell, R-Ky., sent letters to several federal banking and financial regulatory institutions to reiterate hemp's legality. This was four months after the 2018 Farm Bill legalized hemp. The Senators were aware that lawful hemp farmers and businesses were still facing a lack of access to financial services, services already promised to them.
"While some banks have agreed to offer financial services to the growing hemp industry, many banks have not due to confusion over the legal status of hemp," the senators wrote. "However, as hemp is no longer a controlled substance, banks should feel secure in engaging with this industry…Legal hemp businesses should be treated just like any other businesses and not discriminated against."
But regulators, including the FDIC, never took the initiative.
While the country is divided on many issues, the issue of banking services being provided to cannabis businesses is not one of them.
The SAFE Banking Act passed in US House of Representatives by a vote of 321 to 103!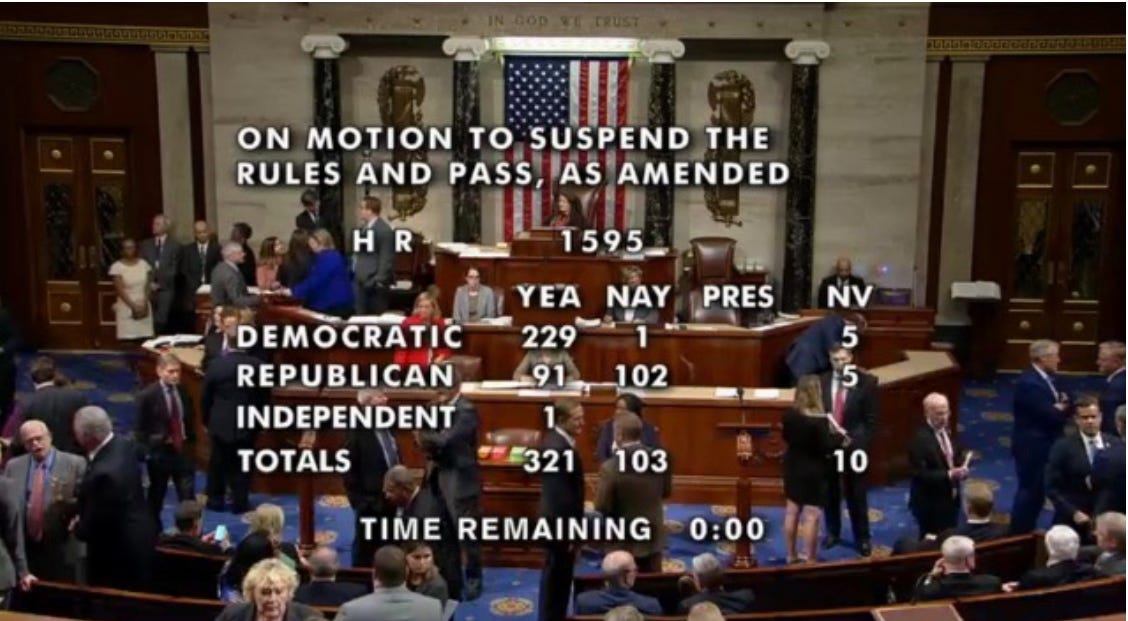 If you're looking to raise your voice and let your Senators know that you support hemp banking and financial transactions outlined in the SAFE Banking Act, you can easily send them emails on the U.S. Hemp Roundtable's website.