American Hemp: #1 on Amazon
Here's what happened this week on the book tour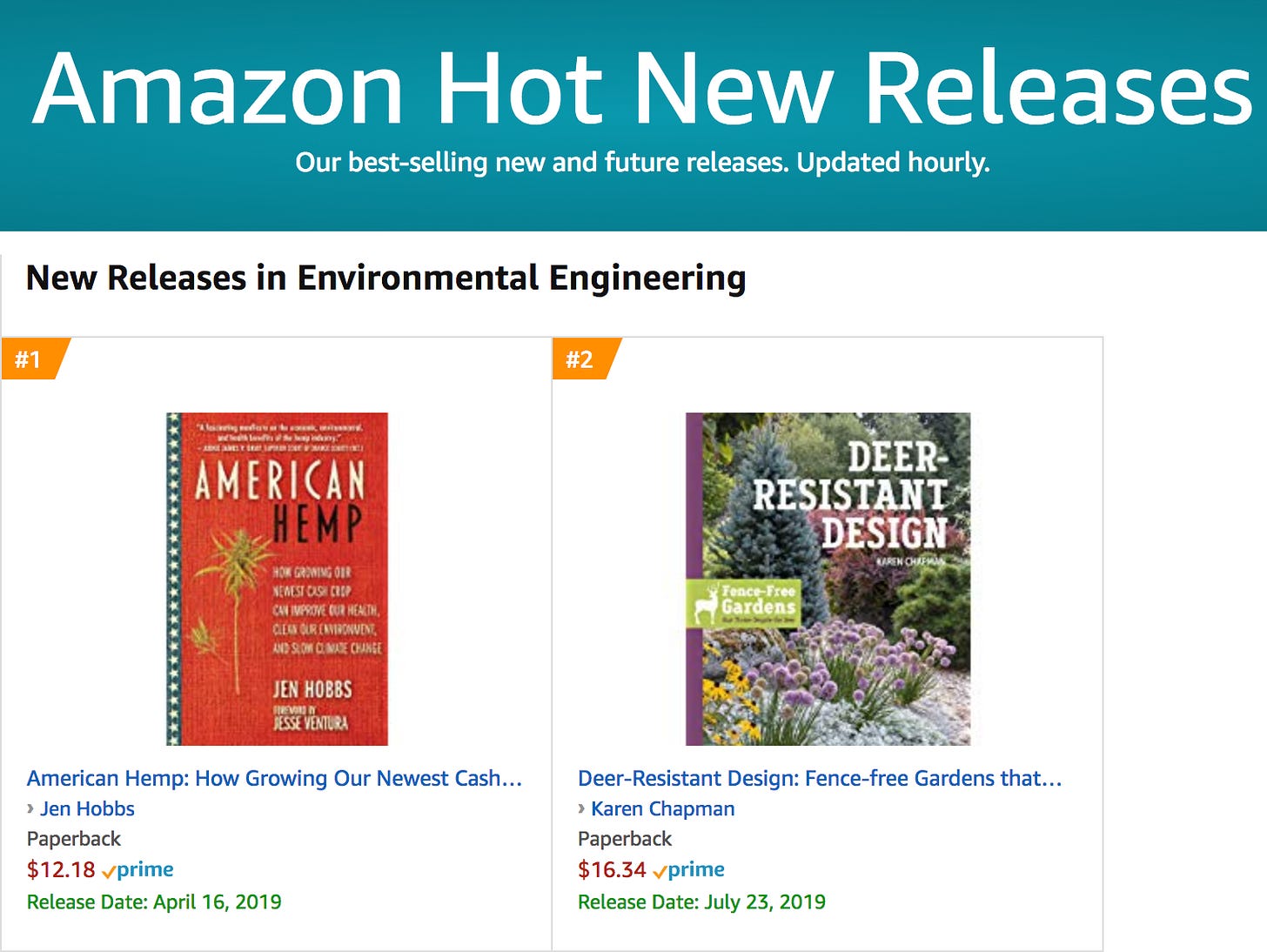 Okay, okay, my book doesn't come close to listing #1 in all book categories on Amazon, just #1 in the Environmental Engineering category. So that's something! And it felt good to be #1 even for a fleeting moment. . . because a few hours later it wasn't up there anymore.
My, how the Environmental Engineering bestsellers list changes so quickly!
This morning, I went to the book's Amazon page to copy the URL, and I saw that beautiful orange flag. . . and now it's gone. . . but it was cool while it lasted. And at least I was able to screenshot it before it disappeared.

I did a few interviews for the book this week (most are taped to air next week), so I'm thinking this could've helped my (brief) ranking on Amazon.
I have to say, as many interviews as I've heard authors give over the years, giving interviews isn't as easy as I thought! Sure, I researched the heck out of this topic, but a lot of these interviews were a half hour, an hour, or even longer and it was tough not to get tongue tied (and I admittedly did). And I'll confess I also lost my train of thought during an in-person interview as I was making a really strong point. I was focusing on all the details I wanted to get across…. and then I completely forgot the next point I wanted to make. (Cursed attention span!) So for anyone who's ever experienced that before, I salute you.
I'm sure I'm my own worst critic in many ways, but I'm also so grateful for the opportunity to talk about my book and share what I've learned.
If you're interested in listening to the interviews I gave this week, some are already live:
Earthworms podcast / KDHX STL Independent Media - this focused on environmental benefits of hemp, such as farming methods, nutrition, phytoremediation (I got tongue tied on pronouncing photo-re-mediation after talking for so long, so that's a gem to listen for in this one), and building with hemp. Jean was such a gracious host. I love when the interviewer reads the book. She pulled out some really nice quotes for us to discuss.

The Conspiracy Show with Richard Syrett - such a fun interview. Richard is such a pro and a great conversationalist. Focused on history of hemp, phytoremediation (pronounced it right several times in this one, go me!), CBD, and new hemp laws. Also took questions from callers.

Link: https://podcasts.apple.com/ae/podcast/the-conspiracy-show-with-richard-syrett/id330322710

I Protest with Don Jeffries - iHeart Radio - this was a fun one too. Don has been a guest on Jesse Ventura's tv show and he's written a few books himself. We got into some new territory and talked about the DEA, the drug war, the prison system/mass incarceration and some other topics from the book I co-wrote with Jesse Ventura.

Link: https://tfrlive.com/don-jeffries-with-emily-gipson-and-jen-hobbs-85257/?fbclid=IwAR1Qy0lQi0w4OViq_JmPg51ZKUToYNbrh_NgnX1Y3YtOLmvFYFH155Ki-WE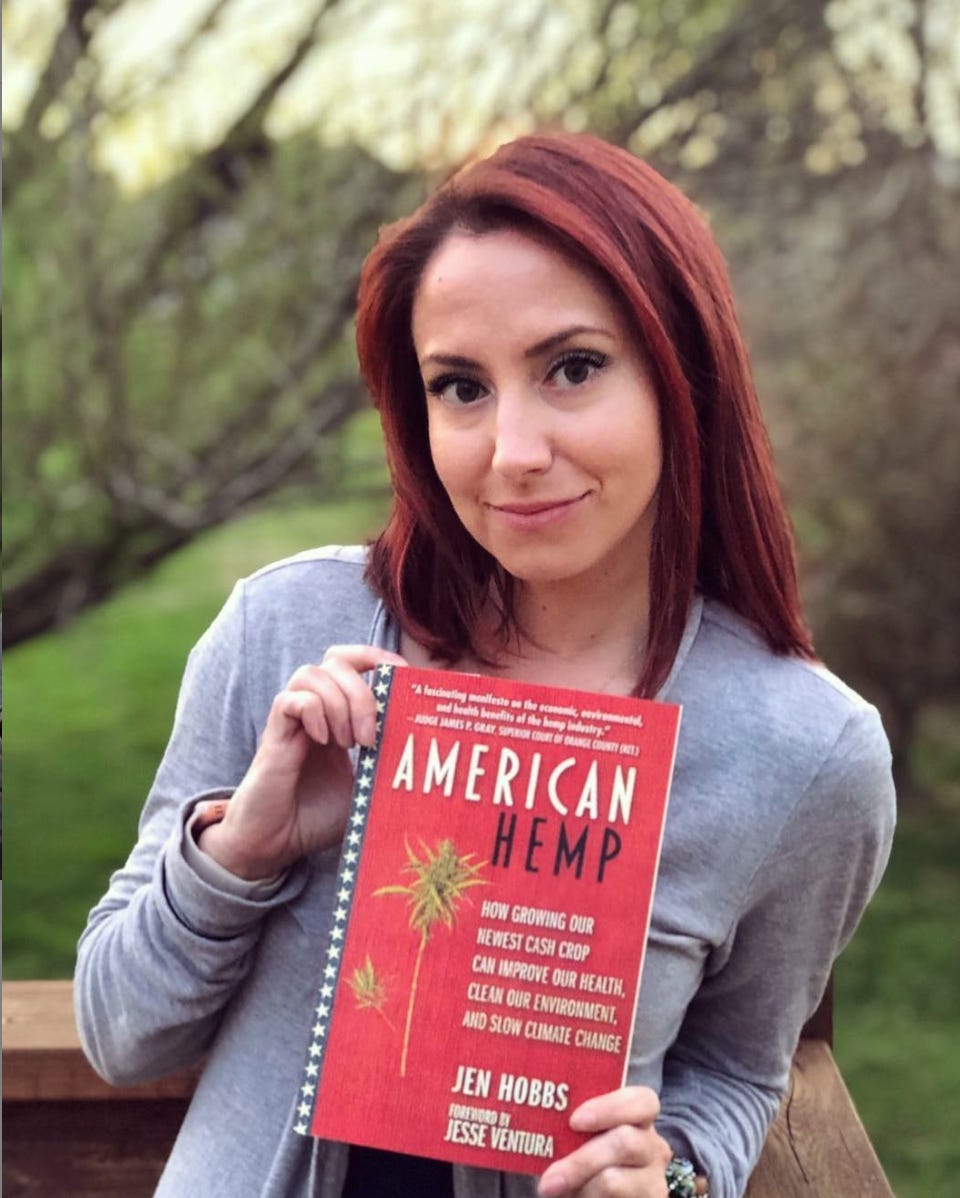 If you're able to tune-in, here's some live interviews I'm doing next week:
Monday, April 15th
10:00am Central - Stand Up w/Pete Dominick - SiriusXM Insight, 121

1:00pm Central - "Main Street" Prairie Public Broadcasting (North Dakota)
Tuesday, April 16th
Wednesday, April 17th
Thursday, April 18th
Also, I just checked and the book is still available for preorder with a discount on Amazon for 32% off and Barnes & Noble for 30% off.
Thanks again for subscribing and enjoy your weekend!