Hemp-CBD: Now Cleared to Fly
The TSA Updates Medical Marijuana Rules to Allow Hemp-CBD on Flights
The 2018 Farm Bill was passed in, well, December of 2018. This legislation legalized hemp and all of its derivatives, including CBD. However, TSA was slow to update its policy to allow Hemp-CBD products on flights.
Over Memorial Day Weekend, the agency quietly changed it's rules from this: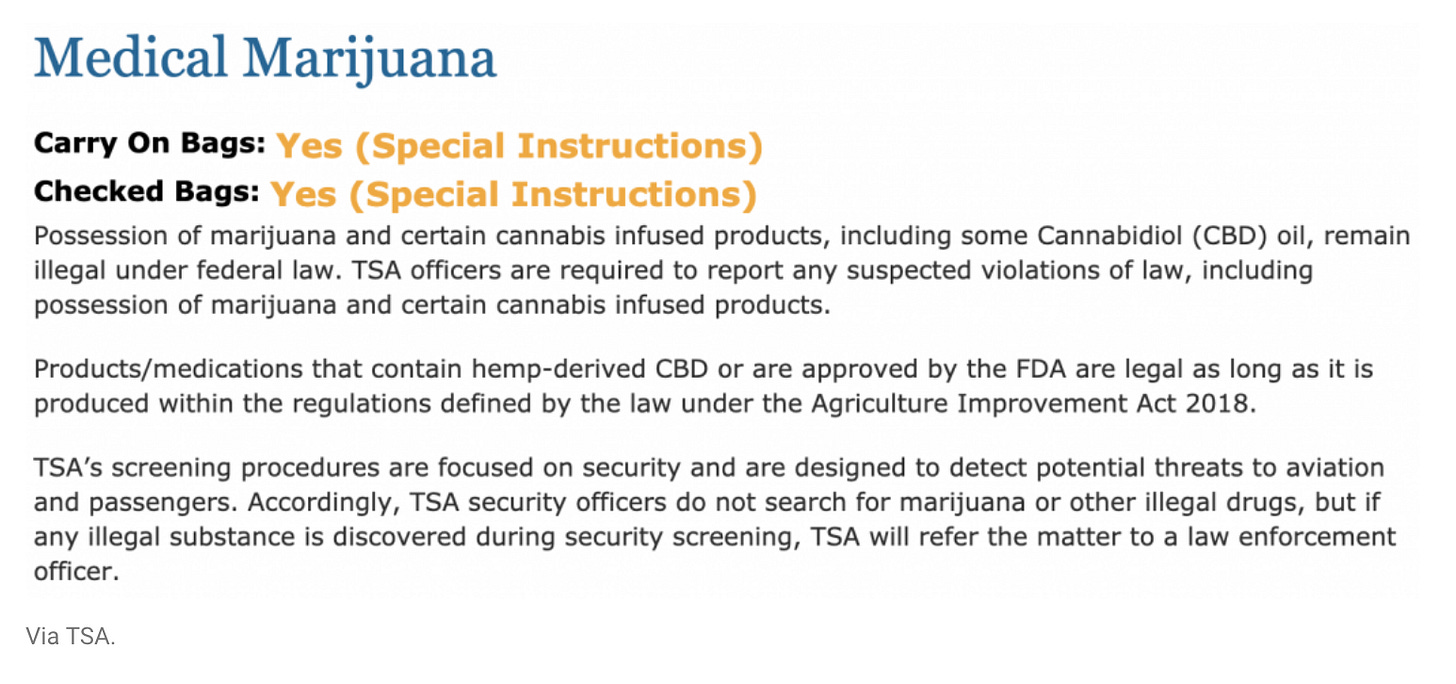 What prompted the change?
The TSA claims it's all because the FDA approved Epidiolex — which occurred on June 25, 2018 — nearly a year ago, and prior to the 2018 Farm Bill.
"To avoid confusion as to whether families can travel with this drug, TSA immediately updated TSA.gov once we became aware of the issue," the agency told NBC News.
Just to recap — it took nearly a year for this information from one government agency to reach another government agency so that a prescription drug can be legally carried on a plane.
Epidiolex is used to treat children with rare seizure conditions —Lennox-Gastaut syndrome (LGS) and Dravet syndrome—which are two of the most difficult-to-treat forms of childhood-onset epilepsy. Children two years of age or older can legally have a prescription.
Prior to the TSA's CBD update, the medication could've been confiscated, and there was also a risk of getting arrested by local law enforcement — even though the drug was completely legal, and prescribed by a doctor.
Check out what TSA posted on the official Instagram account on 4/20—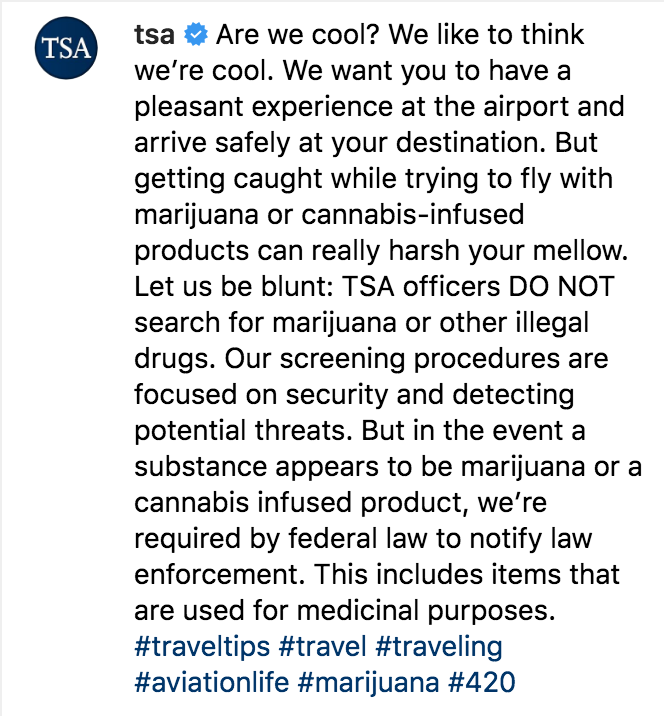 (Yes, they actually posted that on 4/20.)
Prior to the TSA security screening update that took place over the weekend, CBD oil was either seized from passengers or stranger still, some actually found themselves arrested and charged with carrying an illegal narcotic—even though hemp-derived CBD is completely legal (and no longer a drug).
These are two of the more notable cases:
South Dakota: Alaska resident Bernard Davis (57 years of age) was arrested in April for having hemp-CBD oil at the Sioux Falls Regional Airport. He was charged with a class 5 felony, and the case is still pending.


Dallas/Fort Worth International Airport: A 71-year-old grandmother was headed from Mexico to Oregon and had a layover in the Dallas/Fort Worth airport. Customs officials put her in handcuffs after they found hemp-CBD oil in her bag (which she used for arthritis/pain relief). She was then booked on a felony drug possession charge. Her case was eventually dropped, but she spent two nights, shackled behind bars, all because she was carrying a federally legal substance.
However, there haven't been any cases inside the United States of airport passengers being arrested for carrying Epidiolex.
Fortunately, now that the TSA has finally complied with federal law, children two years of age and older can take their seizure medication on planes.